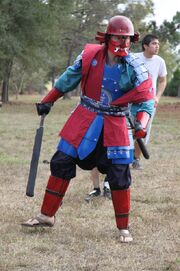 A Daimyo is a position of power in WoTS, signifying the leader of a Clan
Responsibilities
Edit
A Daimyo is a respected athority, but must act as someone who deserves that respect.
They are tasked with assigning the Clan Taisho(s) and Daikon.
They lead each practice and insure it goes smoothly.
They control the Clan, making sure that dues are collected, weapon bags are full, and rules are adheared to.
They must explain the rules of the game to their new initiates and teach them the basics of WoTS.
They must assign their own clan rules, which govern the members of a clan directly.
They must act in the best interest of the clan and the shogunate. NEVER themselves.
Ad blocker interference detected!
Wikia is a free-to-use site that makes money from advertising. We have a modified experience for viewers using ad blockers

Wikia is not accessible if you've made further modifications. Remove the custom ad blocker rule(s) and the page will load as expected.