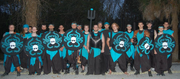 Conceptualized:
2008
Established: 2010
Location: None, Atlanteans practice at local parks from Miami to Jacksonville, FL; the unit does meet for unit practices, however, they are held at undisclosed locations.
General Information
Edit
Atlantis was originally Teej's pet project back in Summer 2008. However, upon sharing the idea of militarized unit with a few local (Belegarth) fighters during an attendance slump in Summer 2010, the unit suddenly took a new life. It was founded by a number of veteran foam-fighters and former military personnel, all of which take pride in maintaining activity in foam-combat. Until that summer, Florida had been a mere "expansion state" for larger national Bel/Dag units to recruit from. Atlantis broke this trend and was founded to be Florida's home-grown "super unit." Debuting at the second Oceanside Onslaught.
Teej had previously explored the idea of cross-gaming with WotS in 2007; however, nothing came of the talks with the administration at the time. It was not until To'Gur started practicing with the Northern Vikings that Teej learned of a change of administration and gave cross-gaming with WotS another shot. Atlantis would cross-game with WotS as the first fictional culture and officially debut in the February 2012 campout.
Basic Features
Edit
Military Uniformity: Garb, armor, and equipment all have uniform standards; individuality is earned with seniority and experience.
Military Drill: Atlantis is trained by a former Marine, five Soldiers (former and current), and a Coasty (or Guardian); the drill movements have been simplified to accommodate members with no military background who will have limited training time.
Military-like Ranking: For fun and establishing seniority, not for servitude.
Myrmidon: Atlantis' elites, all required to complete a number of national trials against highly experienced fighters.
Canonized Lore: No lore will be approved without meeting canon standards and canon standards require that lore (with the exception of backstory) closely mirrors true events that have taken place on the field.
Atlantis-hosted Events
Edit
The Atlantiad (April): A hybrid foam-combat/athletic competition fashioned after the Olympics, this is a one-day event with feast. Open to all.

The Agoge (Early to Mid Summer): A private training and trials event hosted for members of Atlantis and select guests.

The Odyssey (October): A typical foam-combat event host to a number of scenarios, this is a two-day event with feast. Open to all.

Imperial Officials
Edit
Imperial Units
Edit
http://www.ImperialAtlantis.org (currently modernizing, forwarding to local Belegarth)
Ad blocker interference detected!
Wikia is a free-to-use site that makes money from advertising. We have a modified experience for viewers using ad blockers

Wikia is not accessible if you've made further modifications. Remove the custom ad blocker rule(s) and the page will load as expected.