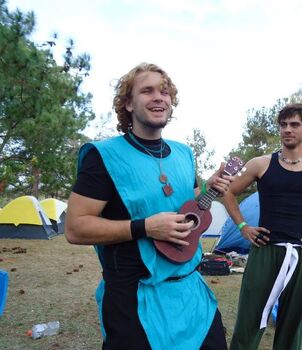 "I am the prince of mirrors,and the king of vanity. I am an Atlantean metrosexual warrior who fancy's single sword,and polearms. I am a very pretty man,and my hair glows a yellow color due to the mercury poison I caught due to the pollution that flows through the waters of my homeland. I have trained with some of the very best warriors that the kingdom Sakura has to offer and more."
-Narcius Alexander Lockheart on himself.
Narcius Alexander Lockheart is a member of Atlantis. He has been part of Azure Gengetsu, Ani Hoko, Kuro Okami, and is currently one of the three masters in the realm of Blood Grove. Narcius began fighting in WotS right around the time it broke off from Amtgard five years ago, Narcius was one of the original members of Ani Hoko alongside Shawn Dunn, Jason Stuart, and Andre Manning. Narcius recieved his training in single blade combat from his masters Andre Manning, and Jason Stuart.
Narcius enjoys singing the songs of his people, but don't let his beautiful singing voice, and stunning good looks fool you. Narcius is a skilled fighter in many types of weapon styles, in his free time Narcius enjoys collecting cosmetics, Pokemon cards, and mirrors. If you'd like to know more about Narcius or praise him for his plethora of outstanding attributes you can make contact with him and his legion of Daveaholics at http://www.facebook.com/#!/groups/218938271538123/
Ad blocker interference detected!
Wikia is a free-to-use site that makes money from advertising. We have a modified experience for viewers using ad blockers

Wikia is not accessible if you've made further modifications. Remove the custom ad blocker rule(s) and the page will load as expected.